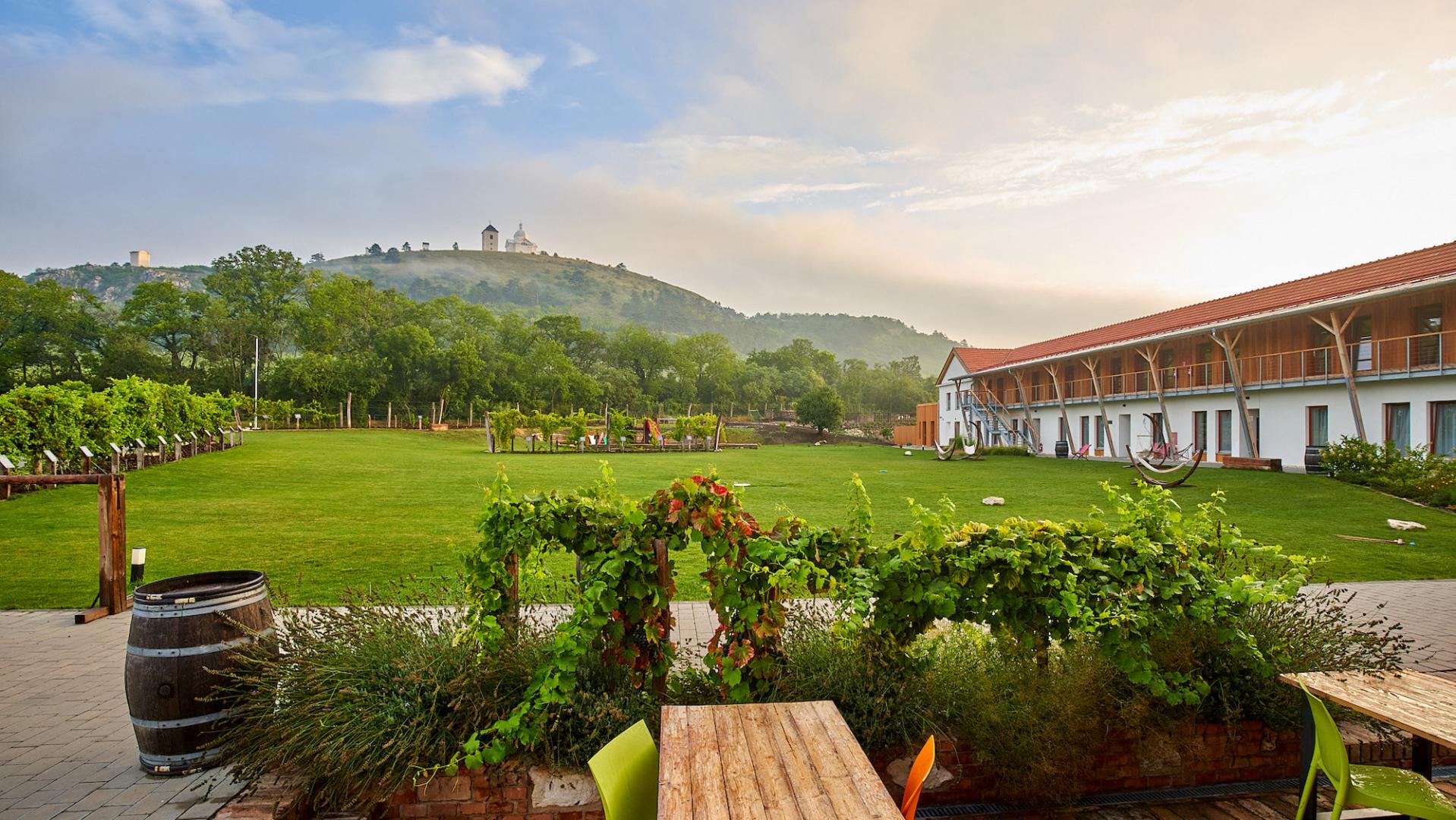 Reservation
Pick your dates and number of guests
---
---
---
---
Grapes pressed with love glistening with the setting sun in your glass after a long cycling trip and the aroma of a well-deserved dinner flowing in your direction from the grill: that's the atmosphere in the Ryzlink Hotel below Svatý kopeček.
An old farmstead underwent a sensitive reconstruction to become Hotel Ryzlink, which tastefully combines original wooden beams, bricks and other material with the modern style of this vineyard hotel. You can look forward to a spacious place with a view of Svatý Kopeček, every step accompanied with wine.
Read more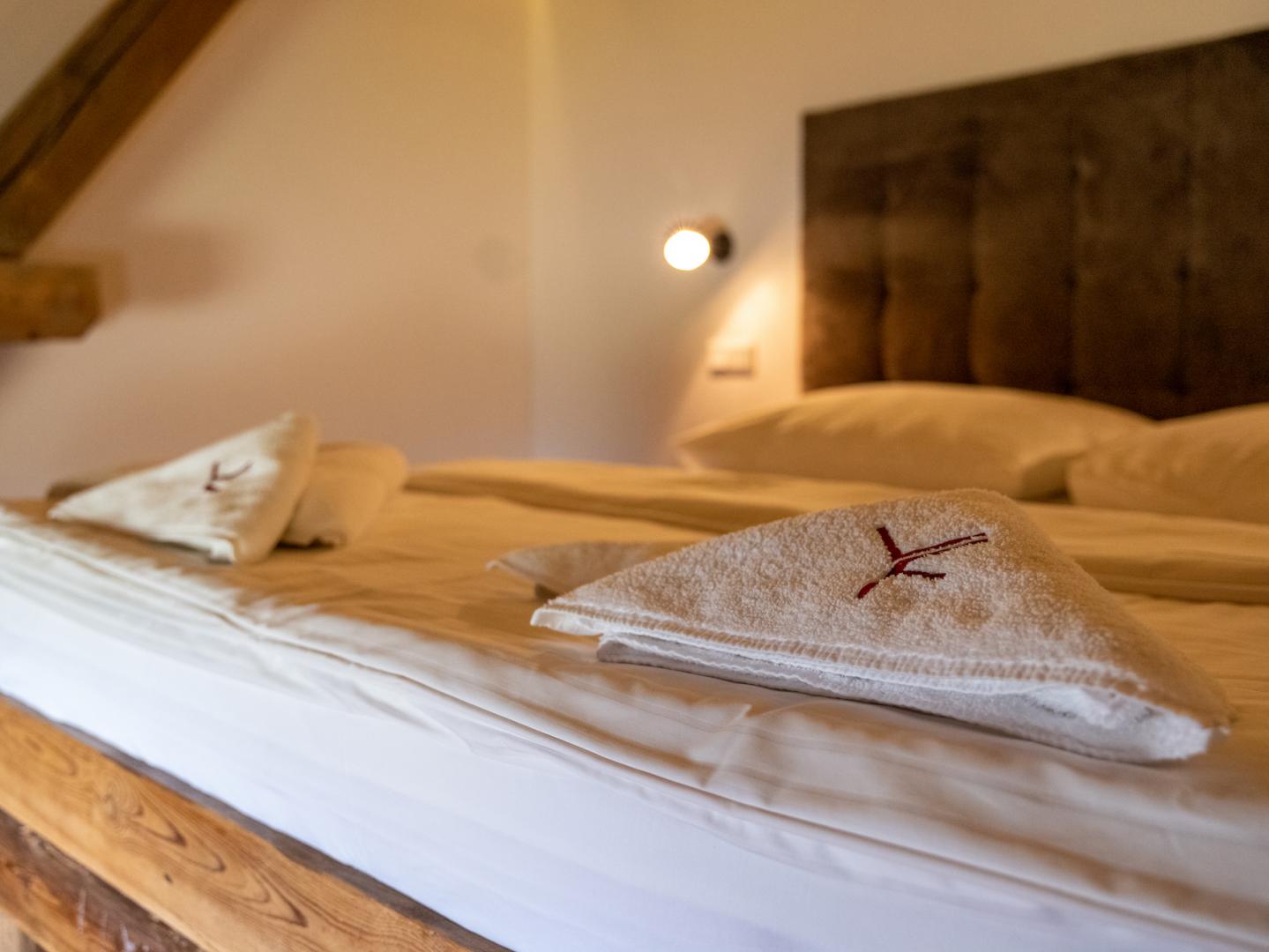 Rooms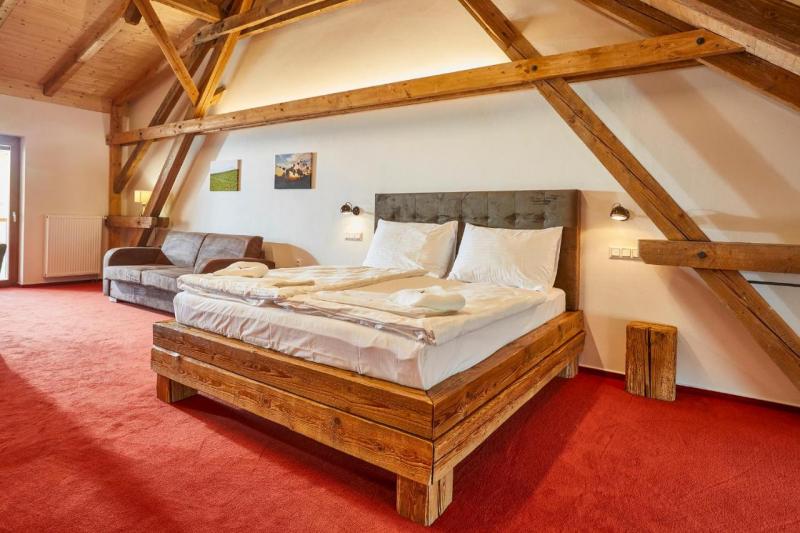 Diamond Royal
Max. 4 guests
Our tips
Wine, wine, wine
You are in the very heart of Pálava where winegrowing is the legacy of local people. Listen and taste.
Have something Moravian
The restaurant offers wine and tapas, made in the vineyard or by local suppliers. Try homemade pâtés, a wine sausage with their Pinot Grigio, meat charcuterie by butcher Hakala and other goodies.
Multi-functional hotel
They are well-prepared for weddings, company events or a family holiday. Don't hesitate to share any special wishes, they love challenges!
Location
Get on a bike and cycle around the Pálava hills. The roads are safe and enjoyable by anyone.
Wine Wellness
The wine spa and various saunas contribute to the relaxing atmosphere of this place below Svatý kopeček. Try the wine organic sauna, or the rejuvenating grape and sea salt procedures.
Diamond apartment
Beautiful attic rooms furnished with solid wood furniture made to order from repurposed wooden beams by a woodcarver. The room has air-conditioning and offers a comfortable stay for up to four people. Enjoy the welcome gift: a bottle of wine from the Fučík Winery.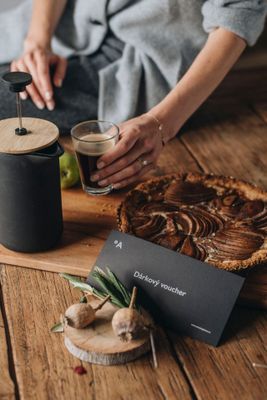 Gift tip.
Give your loved ones an adventure in one of more than 300 amazing places by purchasing a luxurious voucher. The voucher can then be used to pay for your booking.
Vouchers offer
---
---