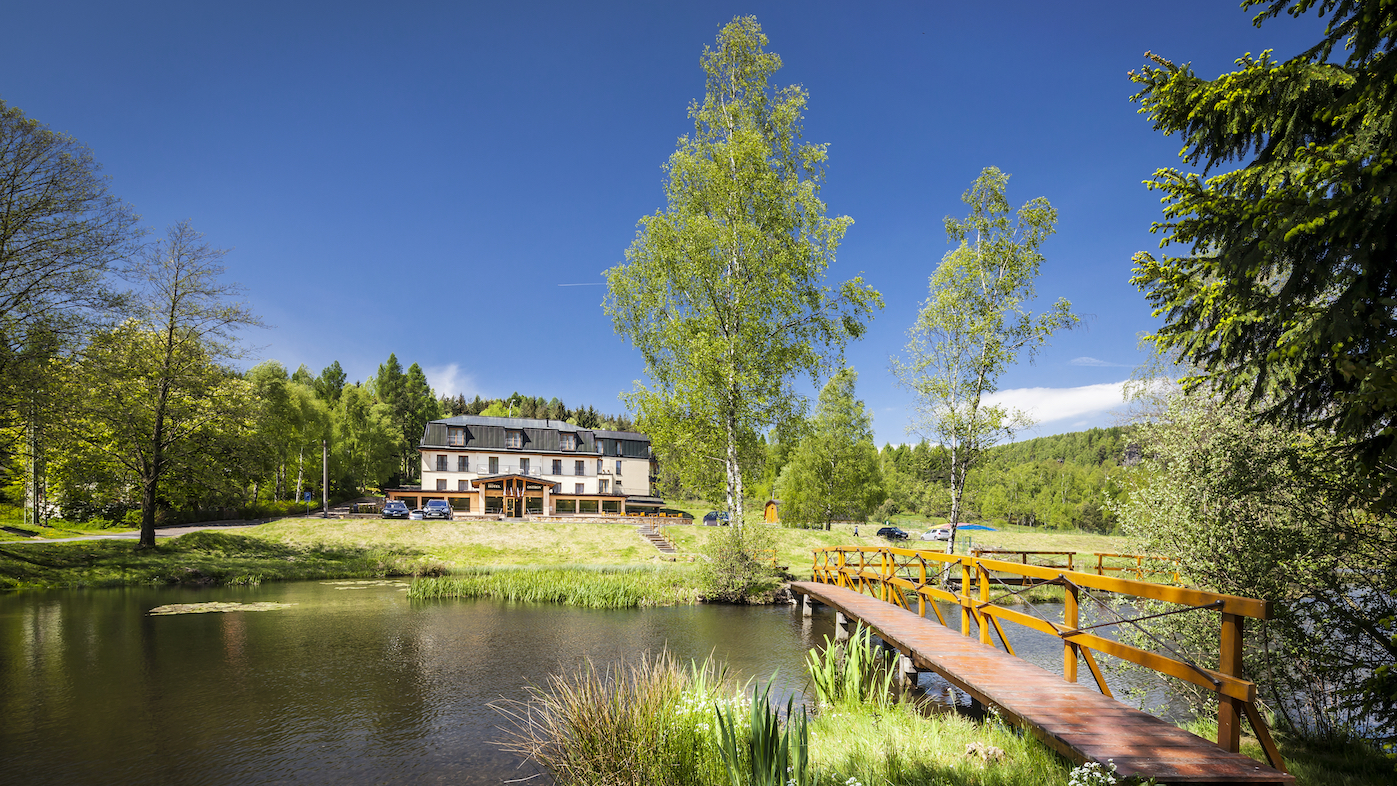 Come recharge in the middle of the forest, with rocks and ponds for friends. Stay in a lovely hotel with a swimming pool and private wellness, and choose a superior room for wonderful views of the Ostrovské skály, or Ostrov Rocks. And the cherry on top? No phone signal, aka the perfect excuse to disconnect and just enjoy each other's company and truly, deeply relax.
This modern hotel is located in the heart of Bohemian Switzerland, just a five-minute drive from the German border. If you are looking for an ideal place to organize a corporate party or team-building event, Hotel Ostrov will provide you with the perfect refuge for up to 100 employees. And if the party go late, just stay in the hotel rooms, have breakfast delivered to bed in the morning and let us recommend the chef's specialty for lunch - slow-roasted meat, best enjoyed in the cozy restaurant.
Read more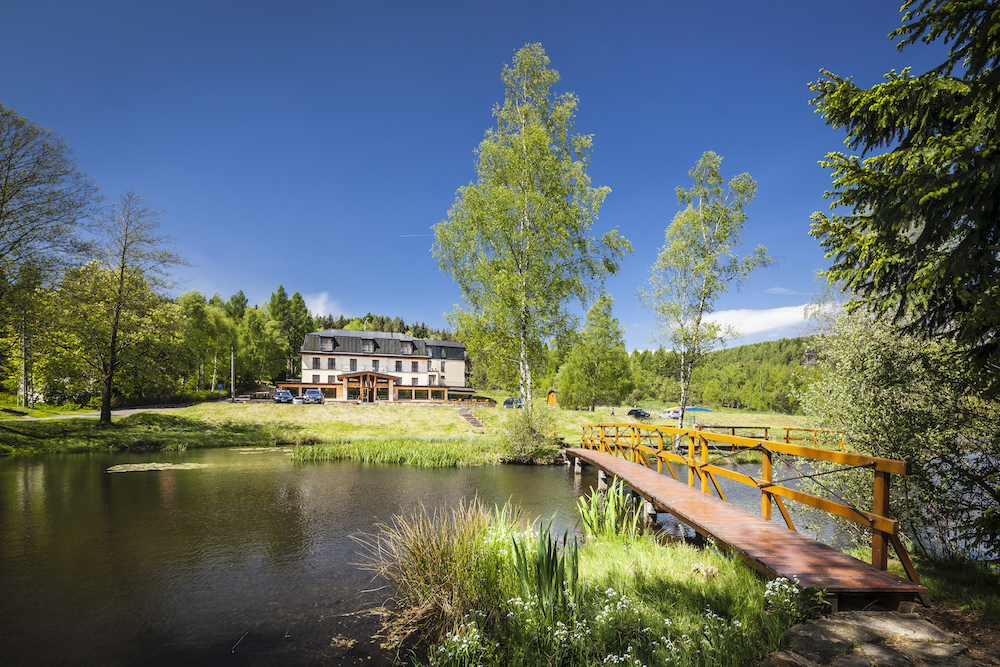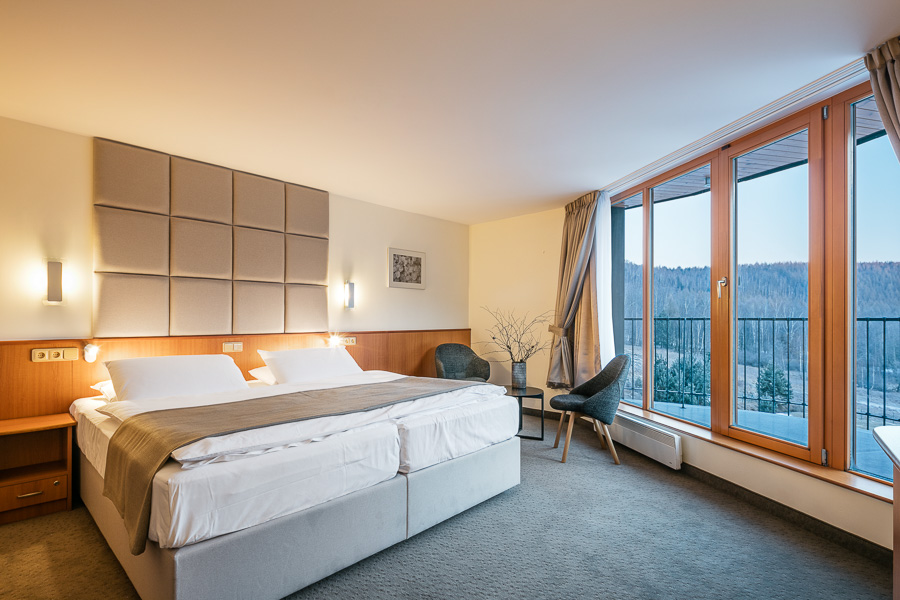 Rooms
Standart double-bed room with extra bed
Max. 3 guests
Our tips
Phenomenal restaurant
Modern Czech cuisine. An award-winning restaurant. Chef René Tichý and his team. What more could you want? Treat your tastebuds to slow-roasted meats, honest sauces, homemade ice cream from non-traditional ingredients and dazzling desserts.
Rightful rest
The indoor pool, whirlpool, Finnish and steam saunas in the Ostrov wellness center offer many ways in which to find total relaxation from everyday worries. Unwind overlooking the rocky panorama, no matter the weather. Relax with a massage, take a dip in the pool and enjoy a private evening by candlelight.
Trips in the area
Bohemian Switzerland offers an inexhaustible number of hiking trails that even your little ones can handle and enjoy. Visit Děčínský Sněžník, the Pravčická Gate, Bastei or the Königstein Fortress just past the German border. And after a day in the mountains, the sauna will feel especially good.
For winer lovers
Your restaurant experience will be enhanced with panoramic views rocks and a comprehensive selection of wines from Moravia, Italy and France, both from world-famous winemakers as well as small and exclusive producers.
Colleagues and cheer
Business in the middle of nature? You bet. Hotel Ostrov offers a productive environment for your business meetings or training sessions. Let the staff take care of everything, whether it's for a small group or a 100 people.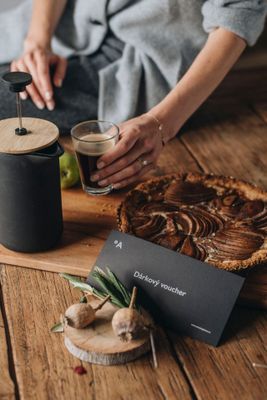 Gift tip.
Give your loved ones an adventure in one of more than 300 amazing places by purchasing a luxurious voucher. The voucher can then be used to pay for your booking.
Vouchers offer
---
---