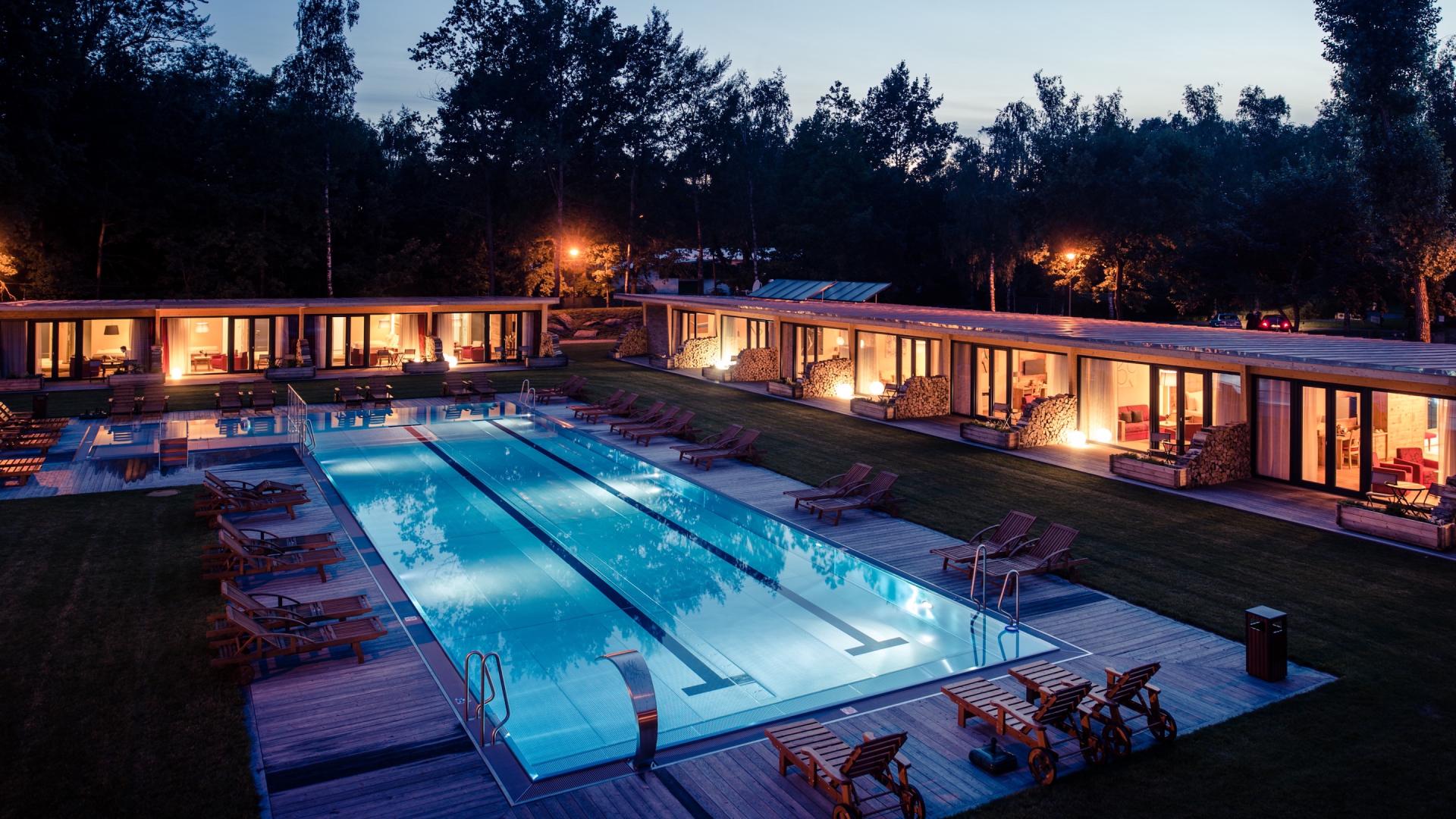 Hotel
•
České Budějovice, Česko
Villa Resort****
Reservation
Pick your dates and number of guests
---
---
---
---
It's almost in the city centre, yet it feels like at the seaside. This place has a twenty-five-metre-long stainless pool, lined with apartments, arranged in the shape of L. The details show that the owner looked for inspiration at our southern neighbours, in Austria. You won't really feel like going on long trips; you'll want to spend as much time and enjoy yourselves here.
As soon as you walk through the gate of the hotel complex and pass the small reception building, you'll come across the generous green area where, in addition to the apartments, you'll also find six luxurious chalets. Each apartment and chalet, designed in the Austrian style, has its own deck with deck chairs and outdoor seating. The full-grown trees all around, mostly acacia, birch and spruce, create an undisturbed peace and quiet and provide a pleasant shade on hot summer days. The apartments are either simple for two people with an optional extra bed, or large with two rooms. The chalets are comfortable for a large family. The minibar is complimentary for all the guests. Another advantage is that you can enjoy the hospitality of the local restaurant, a bistro. In addition to a completely luxurious pool, the littlest ones can enjoy the wading pool with all the slides and attractions. There's a fully equipped gym and sauna with a view of the pool area. And last, but not least, tennis fans can use the professional illuminated court with artificial surface. What gives the place another dimension is the vicinity of the largest park in České Budějovice, Stromovka, so everyone can enjoy activities on foot and on bicycle without having to worry about traffic.
Read more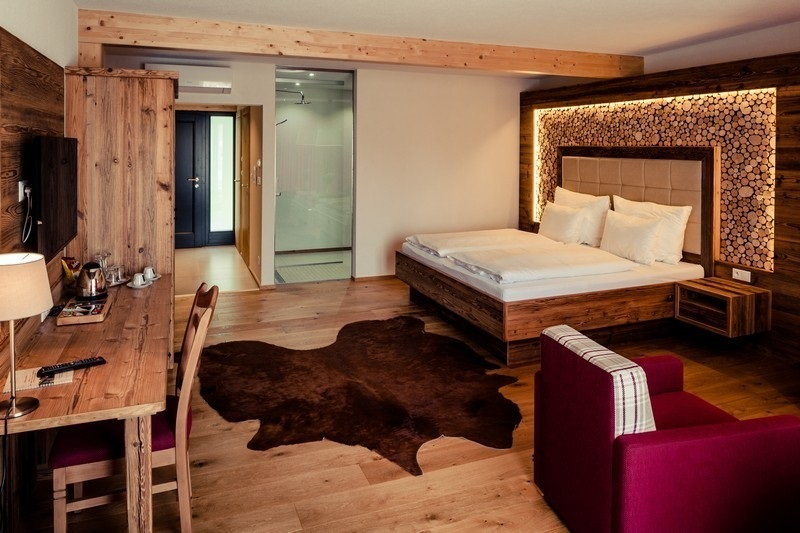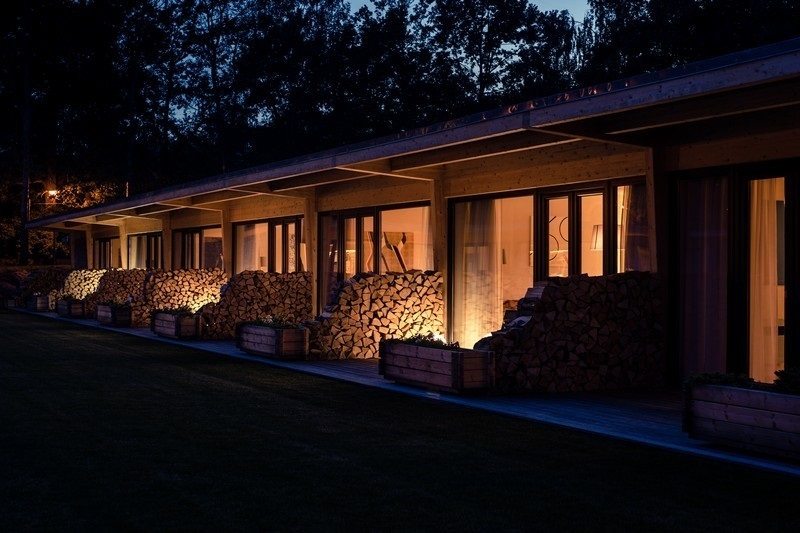 Rooms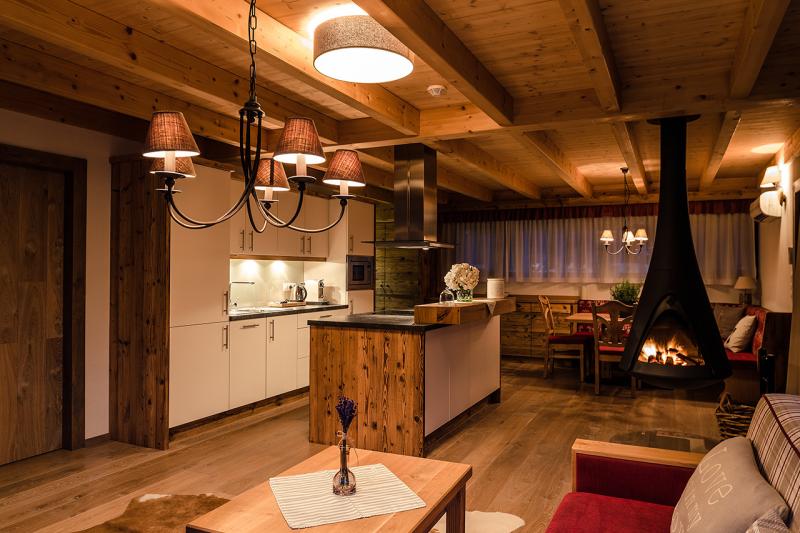 Luxury suite with fireplace and hot tub
Max. 6 guests
Our tips
A personal approach
Each guest has the highest priority and you'll feel that as soon as you arrive. The receptionist will take you to your apartment in a golf cart and explain everything along the way. They want to make you feel at home.
Time slows down
You might think about going on trips but once you arrive, you won't feel like leaving at all. Get comfy in the deckchair in front of your apartment or on the grass wherever you want, grab a book, or just relax and enjoy all the hotel services.
Studio with a view of the pool
The stylish studios are air-conditioned and luxuriously furnished with authentic Alpine furniture made to order. There's a living room with a desk, safe deposit box, minibar, a comfortable pull-out sofa, LCD television and a double bed.
A sports challenge
Maybe you just need to relax, maybe you need to recharge. Everything is at your fingertips. A perfectly equipped aerobic gym where you can work out alone or with a trainer, a 25-metre-long pool where you can swim as many laps as you want; you can play tennis, football tennis, volleyball, go bike touring, or enjoy the various nooks and spaces for yoga.
Good coffee
České Budějovice is a beautiful city full of historical streets. Numerous cafés and bistros for true coffee enthusiasts have opened up in the past few years. We recommend, for example, Kafe Okolo, Plachý Café, Široko or Bistro Cobliha, with a flair, spirit and the right style.
Chalet
Picturesque chalets in the Tyrolean style with solid wood, no imitations, and an area of 30 m2, a terrace with a view of the pool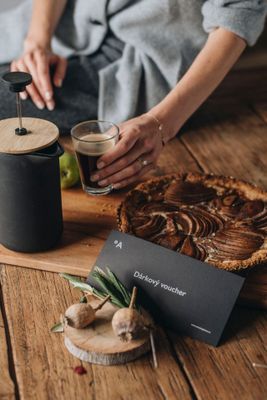 Gift tip.
Give your loved ones an adventure in one of more than 300 amazing places by purchasing a luxurious voucher. The voucher can then be used to pay for your booking.
Vouchers offer
---
---